Universal Material Testing Machines
QC-548D2-S Universal Material Testing Machines
Universal Material Testing Machine QC-548D2 is a table-type UTM with a standard 7″ color touch TFT display panel for stand-alone operation. D2 system can add the portable printer to print out test results directly, which is suitable for production line or a quick test required.
The DC motor of the tensile testing machine can act similar to a servo motor by the special control of the motor and algorithm, which is able to correct the rotation speed to reach its best speed performance during the movement. The digital speed setting and one key start test function improve the convenience and efficiency of operation.
Users can do tensile test, compression test, , peeling test, adhesion test, tearing test etc., and display different languages, units switching between Imperial and Metrics by connecting the dedicated software on a PC. The software of the universal tensile testing machine can also provide users complete analysis functions and test modules. This tester is also widely use as textile testing equipment, fabric testing machine, single yarn test machine, tape tester.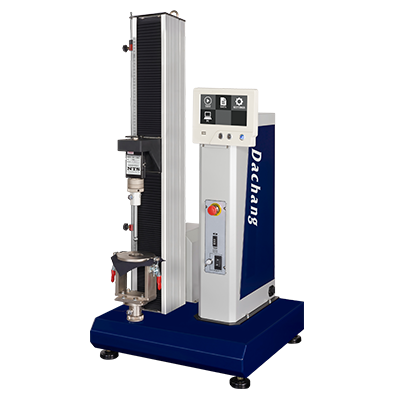 Max. Capacity
5kN
Force Resolution
1/10000(23 bits)
Test Stroke(w/o grip)
400mm
Speed Range
1.0-550.0 mm/min
Data sampling rate
Max. 1200Hz
Motor
DC Motor
Dimension
50 X 50 X 105 cm
Weight
65 kg
Feature
1. Loadcell automatic reading, can be calibrated without installed on machine
2. Standard display for quick operation
3.Power supply 110-240V available

ADD:1 F., No. 46, Ln. 20, Dafu Rd., Shengang Dist., Taichung City 429006, Taiwan (R.O.C.)
TEL:+886-4-2529-7441
Email:dahchang@ms25.hinet.net
Copyright © 2023 Dachang Instruments Co., Ltd. All rights reserved.