QC-640A Impact Specimen Notcher
This tester is used to make a standard V notch on impact specimens. It ensures more stable and accurate results during specimen testing. The type of notch depends on different standards, and this machine allows for convenient and quick adjustment of the cutting depth. It can also be equipped with different cutting blades to meet various requirements. The cutting speed can be adjusted according to the specimen material to minimize the impact on the specimen during cutting.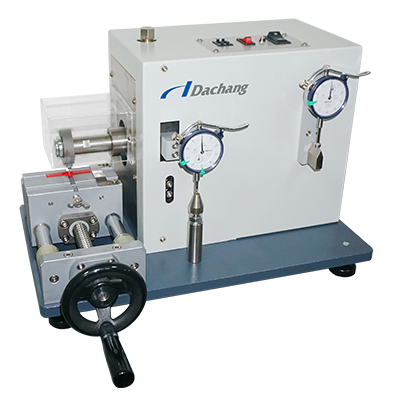 Cutting Speed
30-700 m/min (adjustable)
Speed Setting
5-99 dial multi-segment setting, reference for speedometer
Specimen Size
Thickness 3 ~ 13 mm
Height 10 ~ 13mm
Specimen Length

14 cm (max.)
Cutting Depth
8.0±0.2mm(ISO)
10.16±0.05mm(ASTM)
Easy to switch specimen form with standard block
Cutter Form
A : 45°, r=0.25 mm (standard)
B: 45°, r=1.0 mm
C: 45°, r=0.1 mm
Accessory
ASTM block, ISO block
Dial Gage × 2 (to test specimen thickness and cutting depth)
brush
Open-end Wrench
Hex Wrench
Hook Wrench
Power
Single phase 100~240 VAC
Dimension
48 x 37 x 35 cm
Weight
40kg

ADD:1 F., No. 46, Ln. 20, Dafu Rd., Shengang Dist., Taichung City 429006, Taiwan (R.O.C.)
TEL:+886-4-2529-7441
Email:dahchang@ms25.hinet.net
Copyright © 2023 Dachang Instruments Co., Ltd. All rights reserved.