The Programmable Hot Press is designed for forming plastic or rubber materials into plates by applying stable pressure and heat. It is used for preparing research samples, products, specimens, and more. The touch screen interface is simple to use and operate. This machine supports an 8-stage setting under different pressure and compression duration, ensuring an even specimen molding and reducing bubbles.
The equipment incorporates a water cooling system to shorten the cooling time and improve molding efficiency. The display shows a double curve graph of pressure and temperature, providing better control over force, time, and temperature changes during the molding processes. Additionally, the machine supports manual mode for versatile applications.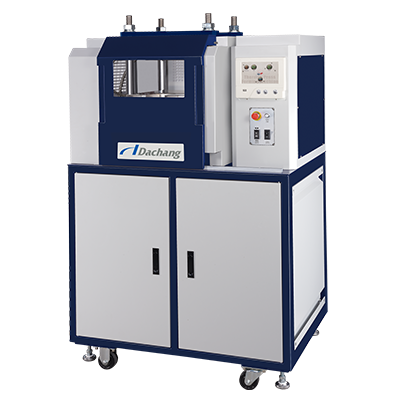 Pressure
10, 20, 30, 50 ton (5-100% of the max. capacity is the suggested test range)
Units
Temperature:℃,℉
Area:m²,cm²,mm²,ft²,in²
Energy:kgf,gf,tonf(long),tonf(short),lbf,ozf,kN,N,tonf(SI)
Pressure:bar,kgf/cm²,KPa,MPa,mm-Aq(4℃),psi
Temperature
Room temperature~ 300℃
(400°C or over is optional.)
Heating Time
18 mins from 50→150℃
Cooling Method
A. Standard: water cooling, takes within 5 minutes to cool down from 150°C to 60°C.
B. Optional: independent water chiller, the average cooling speed is 15°C per minutes.
Size of Heating Plate
30×30 cm (or designated)
Distance Between Heating Plate
150 mm (Max.)
Accessories
A set of mold for flat sheet size 250x250x2 mm.
Configurable Setting
Pre-press time, Pressurize Time
Configurable Temperature
Forming Temperature, Open Mold Temperature, 8-stage Setting Module
Control Way
7" Touch Screen / Two temperature control systems in per heating plate.
Protection
Full Cover, Emergency Stop Button
Display
Instant Pressure, Temperature, Diagram
Power
300°C: 3 Phase / 220V / 50 or 60 Hz / 30A
400°C: 3 Phase / 220V / 50 or 60 Hz / 40A
Dimension
101x74x157 cm (W x D x H)
Weight
680 kg

ADD:1 F., No. 46, Ln. 20, Dafu Rd., Shengang Dist., Taichung City 429006, Taiwan (R.O.C.)
TEL:+886-4-2529-7441
Email:dahchang@ms25.hinet.net
Copyright © 2023 Dachang Instruments Co., Ltd. All rights reserved.