The Manual Hot Press is a compact machine that takes up minimal space. Its four-column construction design allows for the adjustment of the parallelism of the heating plates, which improves the machine's rigidity. The equipment features two independent heating plates, and users can close the plates using the hydraulic cylinder with a pump. It is suitable for preparing research samples, color-matching plates, or specimens, making it convenient for factories to produce materials accordingly. The controller of this tester offers a user-friendly interface for easy setting, clear value display, and temperature and test time control, allowing users to understand the test progress easily.
The display provides real-time updates, enabling users to control the molding process and reduce human operational errors, which promises specimens with consistent quality.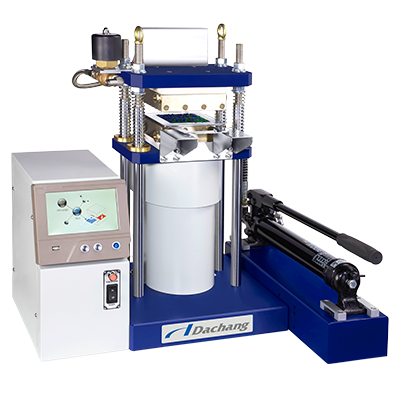 Pressure(Tons)
2, 5, 10 ton
5-100% of the max. capacity is the suggested test range
Units
Temperature: ℃, ℉
Area: m², cm², mm², ft², in²
Force: kgf, gf, tonf(long), tonf(short), lbf, ozf, kN, N, tonf(SI)
Pressure: bar, kgf/cm², KPa, MPa, mm-Aq(4℃), psi
Temperature
Room temperature up to 300℃
Heating Time
18 mins from 50℃ to 150℃
Cooling method (optional)
A.Water cooling system, 150℃ to 60℃ take 10 mins (depends on the size of the heating-plate)
B. External water chiller, average cooling speed 15℃/min
Size of a heating plate
15×15 cm
Distance between heating plates
60 to 100 mm (Adjustable)
Piston Stroke
Max. 80 mm
Accessories
A set of mold for flat sheet size with 100x100x2
Control
7" touch screen
Display
Real-time force, temperature, diagram
Power
Single phase 220V/50 or 60HZ
Dimension
69 × 35 × 75 cm (W×D×H)
Weight
Around 110 kg

ADD:1 F., No. 46, Ln. 20, Dafu Rd., Shengang Dist., Taichung City 429006, Taiwan (R.O.C.)
TEL:+886-4-2529-7441
Email:dahchang@ms25.hinet.net
Copyright © 2023 Dachang Instruments Co., Ltd. All rights reserved.