The Manual Hot Press features two independent heating plates, and users can close the plates using the hydraulic cylinder with a pump. It is suitable for preparing research samples, color-matching plates, or specimens, making it convenient for factories to produce materials accordingly. The controller of this tester offers a user-friendly interface for easy setting, clear value display, and temperature and test time control, allowing users to understand the test progress easily.
 The display provides real-time updates, enabling users to control the molding process and reduce human operational errors, which promises specimens with consistent quality.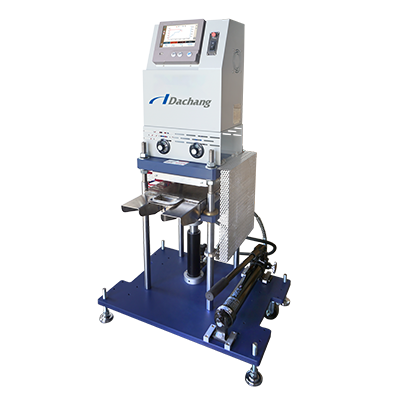 Pressure(Tons)
10, 20, 30, 50 (Tons), or specified capacity
5-100% of the max. capacity is the suggested test range
Units
Temperature: ℃, ℉
Area: m², cm², mm², ft², in²
Force: kgf, gf, tonf(long), tonf(short), lbf, ozf, kN, N, tonf(SI)
Pressure: bar, kgf/cm², KPa, MPa, mm-Aq(4℃), psi
Temperature
Room temperature up to 300℃
Heating Time
18 mins from 50℃ to 150℃
Cooling method (optional)
A. water cooling, takes within 10 minutes to cool down from 150°C to 60°C. (depends on heating plate size)
B. independent water chiller, the average cooling speed is 15°C per minutes.
Size of a heating plate
10, 20,30 tons: 25x25cm
50 ton: 30×30 cm
Distance between heating plates
60~100 mm (adjustable)
Piston Stroke
Max. 80 mm
Accessories
10, 20 tons: A set of mold for flat sheet size 200x200x2 mm
30, 50 tons: A set of mold for flat sheet size 250x250x2 mm
Control
7" touch screen
Display
Real-time force, temperature and diagram
Power
Single phase, 220V/50Hz or 60Hz
Dimension
53×62×145 cm (W×D×H)
Weight
10 tons: about 200kg
20 tons: about 250kg
30 tons: about 300kg
50 tons: about 350kg

ADD:1 F., No. 46, Ln. 20, Dafu Rd., Shengang Dist., Taichung City 429006, Taiwan (R.O.C.)
TEL:+886-4-2529-7441
Email:dahchang@ms25.hinet.net
Copyright © 2023 Dachang Instruments Co., Ltd. All rights reserved.